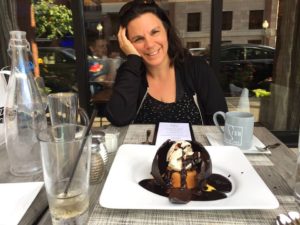 Thank you for visiting my online portfolio. I'm a freelance writer who specializes in essays, mental health, wellness, business and artist profiles, and New York state travel.
Raised in Southampton, NY, I received a B.A. in Communications at Adelphi University. Then worked at various administrative and marketing jobs in Manhattan, including a program coordinator position at Columbia University, which led me to return to my true passion for writing stories. A year after earning an MFA in writing nonfiction, I moved to upstate New York.
Since then I have written for American Baby, DAYSPA magazine, Fit Pregnancy, Saratoga Living, SELF, WomansDay.com, Planning magazine, and many others. In 2006, I became a member of the American Society of Journalists and Authors.
I launched a hyper-local tourism blog called Hudson Valley Good Stuff in January 2009, which promoted all the good stuff I discovered during my years in the Hudson Valley and the Catskills. In August of 2014, I began a new adventure in Saratoga County, and closed HVGS. If you are interested in taking over that blog, send me an email!
In November 2016, I stumbled into my "Second Act" and started working as a Standardized Patient at Albany Medical College in Albany, New York. Read the Folks magazine essay "I Play Sick for a Living" for the backstory on how I became a medical actor. You can hear my interview on the Why Podcast for more juicy details.
I love filling up huge water jugs at the State Seal Spring in Saratoga Spa State Park, swimming at Victoria Pool in the summer, winter blizzards, boot camp and yoga classes, second helpings at Indian buffets, pet therapy, books by Alain de Botton, reading memoirs and self-help experiments.
Visit me on LinkedIn to learn more about my weird career path.
I'm currently working on my first book of creative nonfiction. 
Writing Services
Need a writer for a project? Give me a call: (518) 406-5032 or drop a line to vanessa@vanessagenevaahern.com.