My first Authors Night East Hampton 2019: Introvert's Tips & Takeaways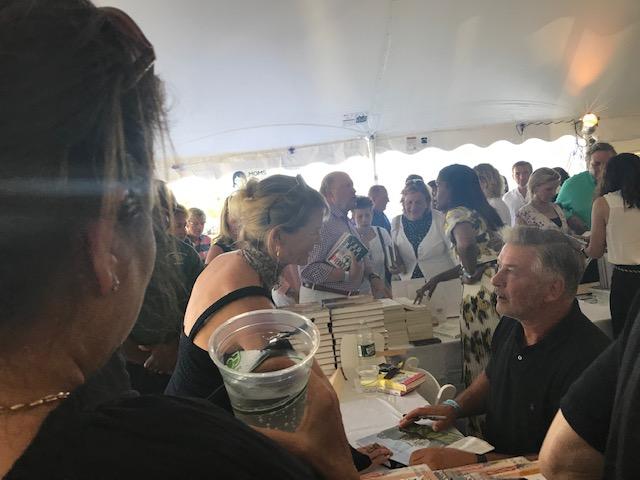 One of the writerly highlights of my August 2019 didn't involve any writing at all. I finally attended Authors Night in East Hampton where I enjoyed meeting fellow readers, writers, and authors. The annual fundraising event which raises money for the East Hampton Library attracts 100 authors who sign books for purchase to readers. It's held on the second Saturday of August.
Going to the Authors Night was on my bucket list for a long time, and I was .finally in Southampton the weekend of the Authors Night. I bought the ticket for the Authors Reception ($100). If you want take it to another level, there is the option to attend a dinner with an author at a private home after at 8pm after the reception. The author dinners start at $300 and include the entrance to the Authors Reception.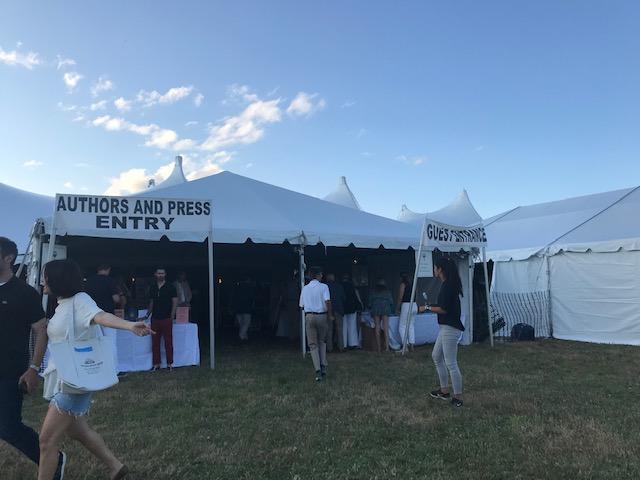 As soon as I got through the check-in and saw the sea of author tables and attendees buzzing around their hives, I was excited, but also my social anxiety came screeching in. Ah, I must carry on!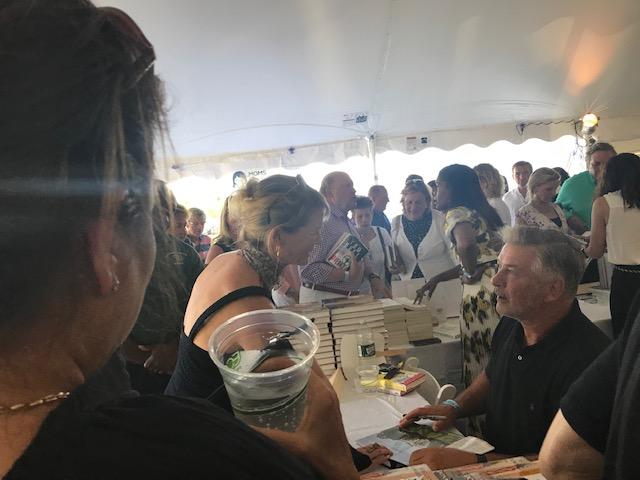 As I walked into the tent, I said to no one in particular, "This is my first Authors Night!" A woman looked at me, rolled her eyes, and cleared her throat. "Oh, really? Well, this is my 12th!"
I studied the list of authors in attendance before hand to have a game plan of which authors I wanted to meet. It's weird that my main regret is that I should have bought more books, and chatted more with those authors who don't have a line of readers waiting to meet them.
Also, next time I will remind myself that books make great gifts. For example, looking back, even though I have every Gretchen Rubin book in my bookshelf, I could have bought a signed one to give to a friend for Christmas.
It was a sweltering hot August day, and it's a loud environment to have deep conversations with the authors so I think I still made the best of it considering I was a newbie.
I did meet all the authors I wanted to meet: Dr. Ruth Westheimer ("Sex for Dummies"), Dani Shapiro ("Inheritance), Abby Ellin ("Duped") Rosanne Cash ( "Composed" and Alec Baldwin ("You Can't Spell America Without Me" and founding honorary chair of Authors Night). I also grabbed a children's book "I am Yoga" by Susan Verde for my favorite yogini. On the line to meet Alec Baldwin, I chatted with another attendee who agreed that celebrity selfies were a bit tacky so we planned to swap phones and photograph each other with Alec, but once I got up there, I felt rushed and clumsy, juggling my pile of books and all. I only had about 10 seconds to make a quick quip that about the 2020 Presidential election, thanked him and moved on.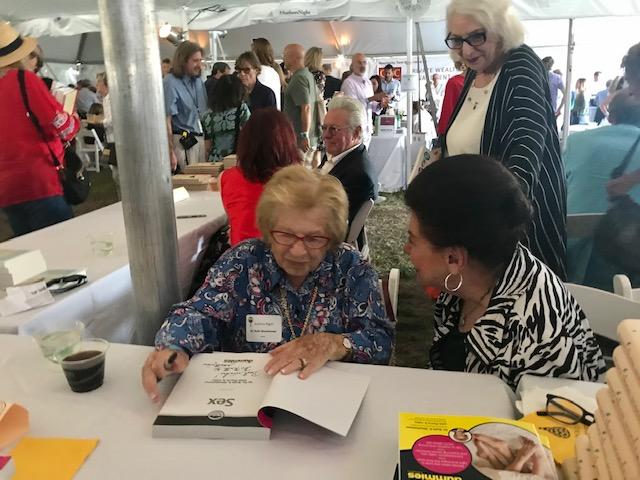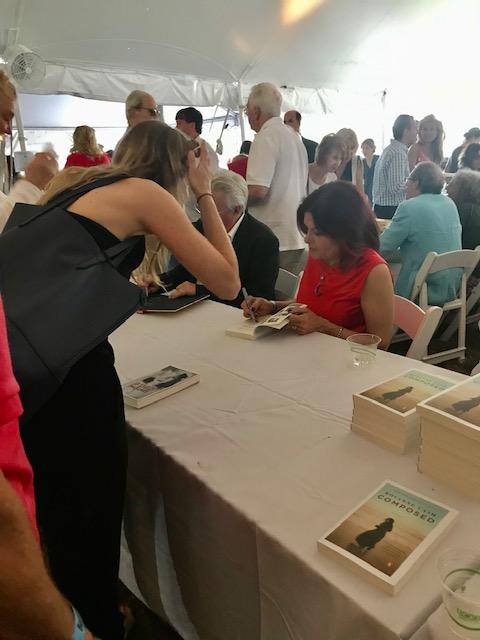 After leaving and paying for my book purchases, I was given sweet swag (a sturdy classy tote bag and an umbrella).
Study the list of authors way in advance. There are authors of all genres and decide who you want to meet.
If you already have an author's book, buy one and get it signed for a friend as a gift. Or, give your friend the book you have and get that author to personalize your book.
Check the venue location on the Authors Night site. I went to the East Hampton Library by accident. The 2019 Authors Night was under a grand tent at 555 Montauk Highway in Amagansett.
Have fun! It's okay to give in to impulse shopping. It's tax deductible (75%) and you can't go wrong with more books.
Get to know a new author. Start a chat with an author who is not surrounded by eager readers. You'll make a friend.
If you are going solo, ask a stranger to take a photo of you in front of the backdrop. The sweet millennial who took this photo thanked me for distracting her while she was waiting for her date 🙂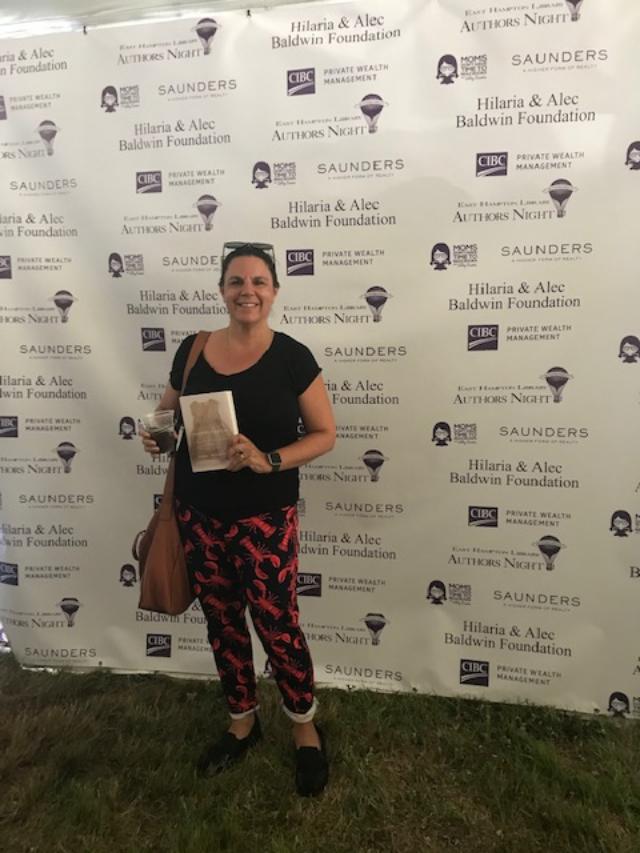 ---